Housing your rabbit
A rabbit's home should be big enough to hold a litterbox, water and food bowls and give him enough room to stretch out or play. It should include bunny-safe toys and chewables to keep him occupied. All rabbits need daily exercise time to stay healthy and minimize boredom.
It should be out of direct sunlight and in a place where he can have some quiet time and feel safe. Even free-roaming rabbits need a place to call their own, for their peace of mind and yours. Creatures of habit, they need to know where to go for their food, water and litterbox. Rabbits enjoy a place to hide, whether a willow tent, cardboard box or tube.
When shopping for housing in a pet store, forget the rabbit aisle and head to the dog supplies for housing and cat aisle for litter pans. (Bunny litter pans, like bunny cages, are almost always too tiny.)

Pens: Metal puppy exercise pens make a great housing choice for rabbits and can be reconfigured (or multiples put together) to allow the bunny more freedom. A pen can used to protect non-bunny-proofed areas of your house from your exploring bunny. Pens can also be used to extend the living space of a caged rabbit by placing it around the open door of his cage, where the rabbit can choose to go back into the comfort of its cage. Pens and gates made of plastic or wood are too easily chewed by a bunny's sharp teeth.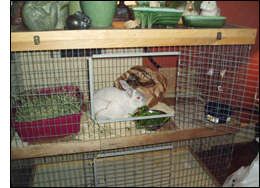 Cages/Dog Crates: If you buy a commercial cage or dog crate, bigger is better. A cage should be at least four times longer than the rabbit and tall enough to give enough room for him to stretch up—bigger if he's confined there a large part of the day. If your cage has a wire floor, you'll need to provide a floor covering as their feet have no pads to protect them. The cage should have a side door that the rabbit can hop through unassisted. A top door is helpful for times when you need to reach into the cage for cleaning or to remove the rabbit. For the pampered bunny, Leithworks multi-level bunny condos are available online.
Cleanup can be made easier by placing a layer of cardboard in the bottom of the cage.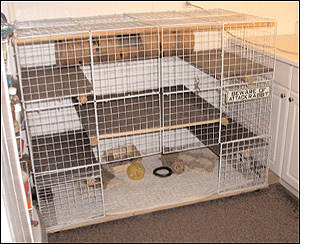 NIC cubes (Neat Idea Cubes and other brands): There are no limits to how you can configure a cage or enclosure for your rabbit with these readily available 14" metal square panels sold as shelving elements. See cage ideas. The panels are cost-effective and can easily be pieced together with plastic multi-purpose wire ties. Dimensions can be adjusted by simply adding or removing panels to fit your space. Doors can be made by attaching only one side of the square as "hinges." See plans for construction and photos. The cage to the left is mounted on a plywood base for stability.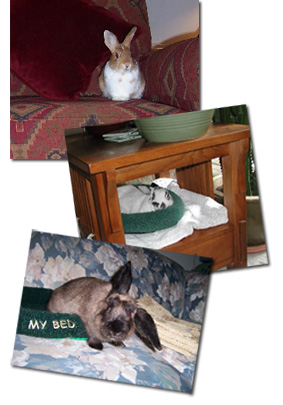 Free-roaming bunnies (with limits): An untrained rabbit needs supervision when you're not there to monitor him. Once your rabbit is well litter trained, and when your house or an area of it is bunny-proofed, your rabbit can be allowed free run of the home (or part of it) even when you're not there. The more room your rabbit has to run around in, the more a part of your family he becomes, and he will reward you with his antics and be a better companion.
---
See The House Rabbits Society's housing page for more information.