ALEXANDER'S FUND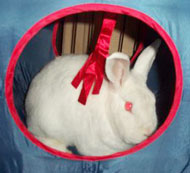 Sometimes another being comes into your life who affects you forever. In his short time with us, Alexander, a warm and gorgeous New Zealand White, taught us all about love, fortitude and dignity.
We first met Alexander when a woman named Jessica called us for help, having found him dumped in a wooded area across the street from her home. She knew nothing about rabbits, but approached him and was easily able to pick him up and take him home. As many rescuers know, such ease is rare. Sadly, most rabbits that are abandoned outside become terrified quickly, and almost immediately lose their trust of humans.
Jess fostered Alexander for a few months while we searched for a perfect home for him. In that time, he showed her that he was a playful, sweet, friendly bunny who absolutely loved life! He used his litterbox as soon as Jess gave him one, and was happiest when he was out playing and exploring, or being cuddled. Alexander also became friends with Jessica's cats—who'd had similar histories on the streets—and they seemed to understand one another.
Alexander was adopted by a family and much loved there. He showed them the happiness that a bunny could bring into a family's life, often snuggling with his adopters, and showing them the joy a rabbit can express through binkying and racing "the Bunny 500." Sadly, Alexander's owners had to move (a sudden and unexpected situation). The only place they could find would not allow pets, so Alexander came back to us.
Alexander greeted each of our rescuers/volunteers, along with potential adopters, with complete trust and affection. Despite his many moves (and a history of being abandoned in the woods), he had no fear and seemed to think his purpose in life was to be snuggled and loved.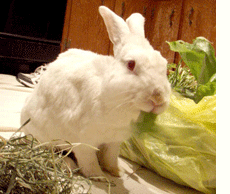 One day, we found a lump on his back. We had it removed by a vet and cared for him, waiting for the sutures to heal. Alexander loved the attention and affection, and would lay his head down for as long as we'd pet him. When we stopped, he'd lick us to show his appreciation. When he'd get a chance to run around, he'd astound us with his antics—but would always stop and run up to anyone if there was a chance at getting pats!
Sadly, it seemed that Alexander had systemic cancer. Although he didn't stop loving, eating and playing, he didn't heal and he lost weight. Eventually, he had trouble running and his formerly perfect litter habits failed. Still, his eyes lit up and he'd get excited whenever someone would come to see him. He loved being held, snuggled and kissed—and would still give loving licks/kisses back. He also ate everything in sight with relish, although it no longer seemed to sustain him.
Alexander went through treatments and procedures trying to save him. He handled each with dignity, never once getting angry about it. Alexander started to refuse certain foods, and could no longer manage to hop very far. He still craved affection and gave it back to anyone who would give him a moment's attention. He was thrilled just to be held and loved—even when he was being force-fed meds!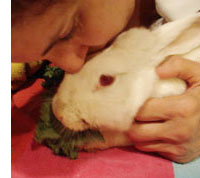 We knew his condition was terminal and did everything we could to alleviate his pain and keep him comfortable. When he was ready to pass over the Rainbow Bridge, we helped him do so with dignity. Even at the very end, Alexander was loving, sweet and wonderful.
Although we only had him with us for a few months, we felt lucky to be able to provide him with comfort, good medical care, and the love and attention that seemed to elude him in the past. Alexander was a bunny who never gave up, and never doubted that his purpose was to love others and be loved. This fund was named in his honor. With your donation, you can help provide rescued bunnies like Alexander with needed medical care so they can have a second chance at life, or a chance for a dignified, pain-free and comfortable life until it's their time to pass over the Bridge.
---
Please help us help other rabbits like Alexander.
---